EllisDon is now on-site at Michael Garron Hospital (MGH) working to build the hospital's redevelopment project. Below is a summary of construction activities currently occurring on the campus. For more information about any of the construction updates below or to sign up for regular email updates contact: @email
---
Sammon Avenue Driveway & Entrance Closure
The E-wing admitting entrance and driveway off of Sammon Avenue is now permanently closed to all vehicular and foot traffic. 
The Coxwell lobby is now the main patient/visitor entrance from 6 a.m. - 11 p.m. unless accessing the emergency department or K wing. Pedestrian access to K wing off Sammon Avenue will remain however there will be no vehicular access or driveway parking available. From 11 p.m. and 6 a.m. all patients and visitors must enter the hospital via the emergency department
All users of wheel-trans must be dropped off and picked up at the main Coxwell Avenue entrance.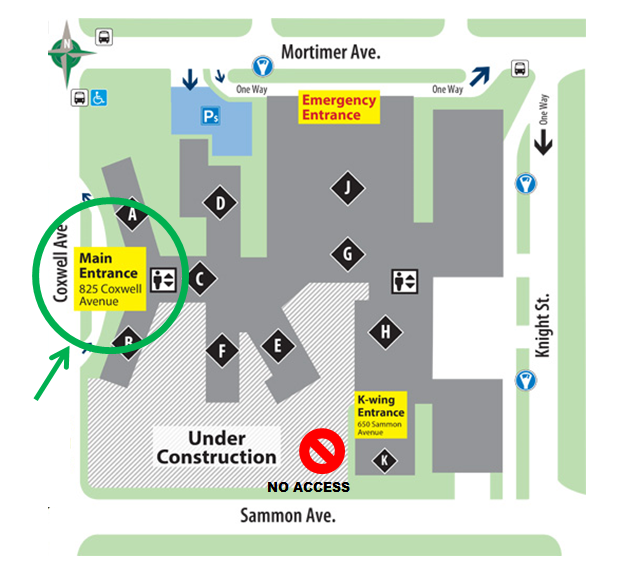 ---
Site Excavation
Excavation and drilling activities are underway at the corner of Cowell and Sammon Avenues. During these activities, intermittent noise and vibrations are expected. Excavation is anticipated to be complete in July 2019.
If you have any questions or concerns during excavation please call our locating department at 416-469-6580 ext. 6333 and ask to speak the redevelopment team member on call.
---
Parking Changes
MGH's parking lot has moved to make way for construction of the Ken and Marilyn Thomson Patient Care Centre. Learn more about where to park during your next visit. 
Once complete, MGH's Ken and Marilyn Thomson Patient Care Centre will have four levels of underground vehicular and bicycle parking, increasing the spots available on campus and  minimizing traffic congestion on the surrounding streets.