The COVID-19 Assessment Centre provides screening, assessment and testing for individuals in East Toronto who are experiencing possible symptoms of COVID-19. Click here to see a list of all Toronto region COVID-19 Assessment Centres.
Community members with potential COVID-19 symptoms (e.g. fever, new or worsening cough, sore throat, headache, muscle aches, fatigue, runny nose and joint aches) who feel they need to be assessed for COVID-19 should phone the Assessment Centre. On the call, patients will be screened for travel and contact history and symptoms, and guided to self-monitor, self-isolate at home, come to the Assessment Centre, or go to the Emergency Department.
The Assessment Centre is not open for walk-in visits at this time. Please call ahead to book an appointment: 416-469-6858.
Patients who need to come to the Assessment Centre will be offered a booked appointment. This enables the hospital to provide the right care for patients, support the important principle of social distancing and prevent unnecessary visits to the Assessment Centre or Emergency Department. Upon arrival to the Centre, following screening, patients will be assessed by a physician and/or nurse and tested for COVID-19 if the assessment indicates that it is required.
Only patients who meet certain criteria will be tested for COVID-19. The test is similar to that of other respiratory illnesses and involves taking a sample from the back of the nasal cavity with a swab. Toronto Public Health will follow up with those who test positive for COVID-19.
The COVID-19 Assessment Centre is open daily, from 8 a.m. to 8 p.m. by appointment only. 
Accessing the COVID-19 Assessment Centre
The COVID-19 Assessment Centre cannot be accessed from inside of the Hospital. The entrance is located on the north side of the building off of Mortimer Avenue, west of the Emergency Department (see map below).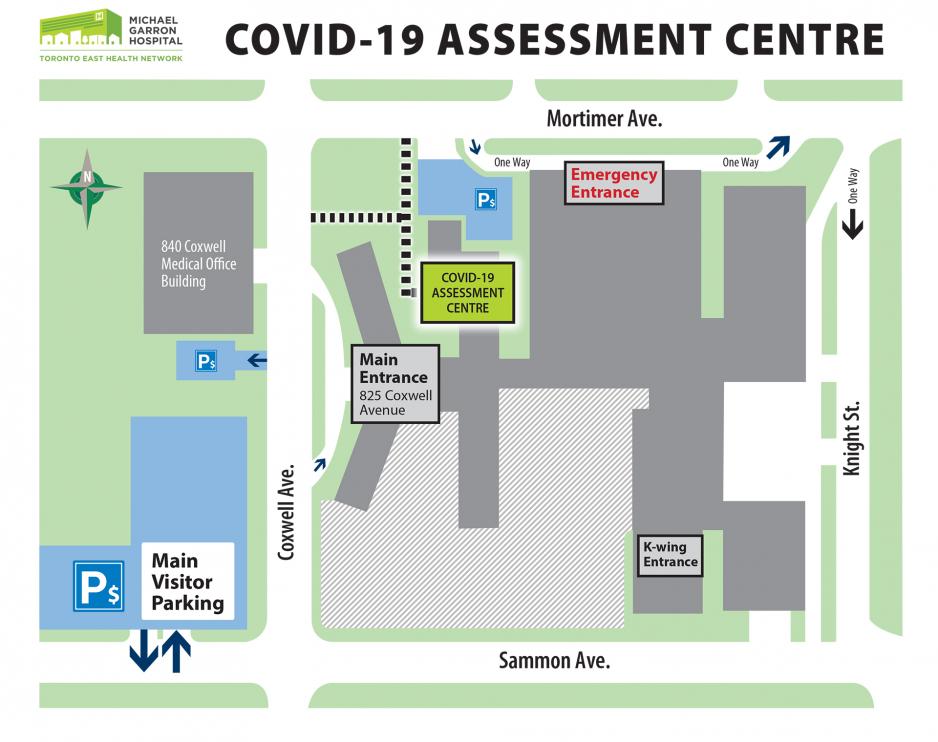 PLEASE NOTE: Patients who do not have symptoms should not visit the COVID-19 Assessment Centre. Instead, please contact Toronto Public Health: 416-338-7600.
If you require urgent care, please visit an Emergency Department or call 911 and inform them of your travel and contact history and symptoms.
Education about COVID-19