Sunday March 8 marks International Women's Day, and with it, a global focus on the celebration and equality of women. Michael Garron Hospital (MGH) is fortunate to have many strong, dedicated and influential women who work tirelessly to support the safe delivery of high-quality care and ongoing operations that keep the hospital running smoothly.
One of these women is Sue Dunn.
With an impressive 33-year career at MGH, Sue is a Registered Practical Nurse (RPN) by background, recruited to the hospital in the 1980s from Nova Scotia. During her tenure at MGH, Sue's roles have evolved from frontline nursing in orthopedics and the nursery, to a post-partum unit clerk and eventually transitioning into the role of executive assistant to Irene Andress, Vice President, Patient Experience, Health Professions & Chief Nursing Executive.
Sue's administrative support roles have spanned many departments across the organization including maternal newborn and child, patient relations, diagnostic imaging, medicine and professional practice. In many of these roles, Sue has worked alongside Irene; the two have worked closely together for nearly 30 years.
"Sue was the first Unit Clerk I ever worked with at MGH" says Irene. "She has a deep commitment to the organization and her peers and is the go-to person whenever you need something done. Diverse in her abilities, Sue is always willing to lend a helping hand and go above and beyond her call of duty."
Sue is not only committed to supporting her peers at MGH but also actively gives back to the community at large through her volunteerism.
For the past 19 years, Sue has volunteered for an organization called Volunteer Builders, which builds and renovates wilderness camps for children and people living with disabilities. These camps are often 60 - 90 years old and in need of major repair.
Sue is very passionate about the cause noting that "every child deserves the opportunity to go to camp and experience the great outdoors."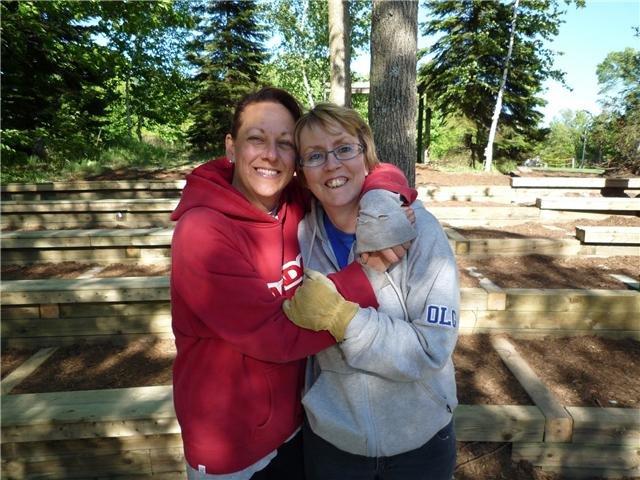 During an active build, approximately 150 -170 volunteers descend upon the properties rain or shine over an extended weekend in June and execute the work.
"No matter your skill, there is something for everyone," says Sue.
There are people around to support volunteers and demonstrate how to do the work – whether it's how to properly hold a hammer or using a table saw.
"See one, do one, teach one," is Sue's motto, noting that after someone learns a new skill, she encourages them to become a teacher to another volunteer.
Over the years Sue has also recruited colleagues from MGH to volunteer with Volunteer Builders, colleagues that continue to give back year after year alongside Sue.
Committed to the causes she is passionate about, Sue is described by her colleagues as someone who can be relied upon for just about anything.
This International Women's Day, take a moment to reflect on and recognize incredible women like Sue for their achievements and for their role in making your community a better place.