If walls could talk, the Healing Room housed on the pediatric unit of Michael Garron Hospital (MGH), Toronto East Health Network, would say "Chi Miigwech, Giga-Waabamin Naagaj."
Translated from Ojibwe to English as "thank you very much" and "see you later," these two phrases are meaningfully placed above the doorway of the Healing Room to welcome all children and families to an inclusive and holistic healing experience at the hospital – something Darene Gallie and her 16-year-old son Joey Raposo are grateful for.
Darene and Joey, who identify as Métis, are long-time members of the East Toronto and hospital community – in fact, Joey was born at the hospital. Since birth, Joey has experienced challenges with his hearing and made frequent visits to the hospital; but this was the first time he stayed in the Healing Room, where he was assessed before his scheduled re-constructive surgery on his ear.
Inspired by the Seven Grandfather Teachings, Medicine Wheel and the Spirit Animals which have been hand-painted on the walls of the pediatric room, the Healing Room represents the traditional teachings of honouring the seven grandfathers' gifts, including: Wisdom, Love, Respect, Bravery, Honesty, Humility and Truth. The four directions of the Medicine Wheel along with the four sacred medicines Tobacco, Cedar, Sweetgrass and Sage are also part of the room which honours the foundation of the Aboriginal way of life.
"The room was so warm, inviting and calming – I think it makes kids and parents feel more at home and at ease," says Darene. "It reminds me of growing up as a child and being surrounded by my heritage."
Led by Elder Little Brown Bear, Manager of Indigenous Culture at MGH, community members of The Aboriginal Healing Program gathered this summer to paint the Aboriginal colours of the Medicine Wheel along with the spirits animals on the walls in hopes of raising cultural awareness.
"I'm so happy to see this room now open to all community members on their healing journey," says Elder Little Brown Bear.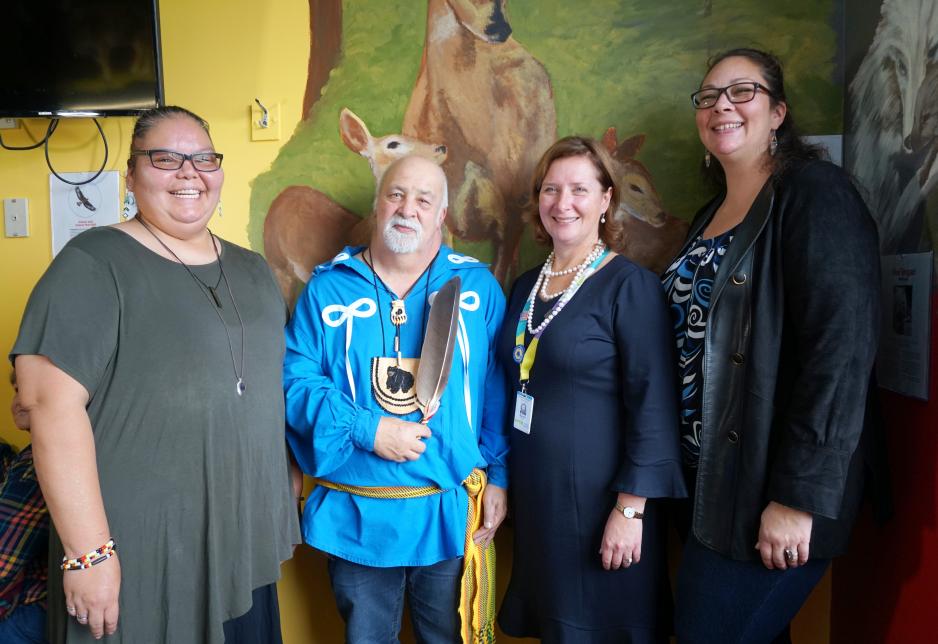 Each of the Teachings is embodied by an animal or spirit that represents and symbolizes different stories, traits, personalities and values. These animals, spirits and symbols colourfully adorn every wall of the pediatric room to protect and help lift the spirits of children and families healing in hospital. People of all spiritual backgrounds are welcome to use the room.
Paintings and teachings include:
Seven Grandfather Teachings

Medicine wheel

Mizheekay (Turtle):

Turtle teaches the art of adapting

Waagosh (Fox):

Fox teaches fortune, luck and opportunity

Waawaashkeshi (Deer):

The deer is a symbol of peace on earth

Mai'iingan (Wolf):

The wolf leads you to your greatest power

Gookooko'oo/gokoko (Owl):

Owl is an old soul and keeper of ancient wisdom

Mashkodebizhiki (Bison):

Bison signifies the need to endure changes

Makwa (Bear):

Bear is the messenger of dream time and vision questing

Migizi (Eagle):

Eagle, ruler of the skies, teaches us victory, freedom, truth and justice

Inuksuk:

A symbol with deep roots in Inuit culture, a directional marker that signifies safety, hope and friendship.

Dream catcher:

Protects the individual sleeping and brings spiritual dreams
According to Statistics Canada, since 2006 the Aboriginal population has grown by 42.5 per cent. One in five Aboriginal people in Canada live in Ontario and just over one in ten Aboriginal people in Ontario reside in Toronto.
As the only acute care hospital located between the City of Toronto and Scarborough, Michael Garron Hospital serves one of Canada's most diverse communities with 22 distinct neighbourhoods, more than 50 languages spoken and close to 40 per cent newcomers to Canada; the 1.5 per cent of people in the hospital's catchment that identify as Aboriginal is slightly higher than the City of Toronto.
Creating inclusive environments that identify and remove barriers and ensure equity and access for all is a top priority for the east end hospital.
Following his surgery, Joey is feeling much better and experiencing less dizziness and headaches. He looks forward to continuing his healing journey – and if he needs to return to the hospital in the future, he hopes he can re-visit the Healing Room.